Shopping Cart
Your Cart is Empty
There was an error with PayPal
Click here to try again
Thank you for your business!
You should be receiving an order confirmation from Paypal shortly.
Exit Shopping Cart
Living in Mountain Home, Arkansas has afforded me the luxury of befriending some of the premiere people in the fly-fishing world. Those friendships have led to an education in the ethics, disciplines, and knowledge of the sport. I thank the Lord on a daily basis for allowing me to live in such a wonderful place full of amazing people.
Most people here have no idea what I do for a living or the fact the majority of my time away is hopping planes from one business meeting to another. They know me for always being on my way to the river. This is all because I fell in love with the right girl, my wife of more than 20 years, Jen. When we met I was a collegiate basketball coach and it seemed always away trying to climb that elusive ladder to Division 1 big time sports. Well, I never made it, but my inability to sit still and need to constantly be challenged still keeps me on the go. She is still very forgiving and allows me to visit my mistress, the White River System, as much as I like.
When I am on the road with work, I constantly revisit the river in my mind. I often think of certain aspects of fly-fishing that cause curiosity or intrigue. My mind is always turning and the majority of the time it involves the river. It is because of that inability to turn my mind off that I have began writing this diary to put my thoughts in print. Not that they are land-breaking by any means, but I have found that most times if it is in my thoughts, others have questioned it as well. So, my hopes with this diary is to connect with those that read it and maybe spike an interest that is familiar to many.
This website is another avenue for me to share all the fly-fishing opportunities of the Ozark waterways and some of the amazing people living near it. As I launch this website, I am most excited about introducing the first attempt at a one-fly competition. One-fly competitions were made famous on the western rivers to determine who would receive the bragging rights as that years best fly-fisherman. I believe I have created a system which will focus on all the waters at specific times. Giving all involved ample opportunity to find the time to take their shot on the waters selected. If you are reading this and can participate, I encourage you to be part of the inaugural season, the White River in 2014.
From a personal perspective, my main goal with this is to continue the education process for my son. Just like any other 11 year old boy, keeping his attention for more than 10 minutes at a time is difficult. Jen and I both share the desire to ensure our son has an understanding of the outdoors, how to enjoy it, and most of all how to appreciate it. We recently purchased a piece of property on Wildcat Shoals of the White River which has enabled us to get Zach to the river often. I have always been conscious that forcing a youngster to do something often backfires into them not enjoying it. So, I have been very careful not to overload my son with learning everything from reading the water, tying knots, fly casting and tying. Due to that caution over the past five years or so I can see my son beginning to become more interested. He has watched me tie thousands of flies over the years and just recently asked if I could begin to show him how to tie. Knowing that his focus on any task would be fleeting, we began with the old beginner stand by, san juan worms. As far as fly casting, he has always been a natural. He has understood how to load a rod since he was just little.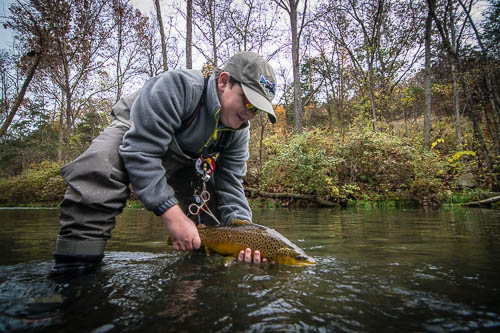 (photo by Matt Tucker; Ozark Chronicles)  When the river is not generating, he has a specific spot where the current rolls over a slight drop. It is usually just loaded with small rainbows. He ties on his favorite go-to fly, the size 10 olive woolly bugger, and strips it through the drop off. It has been a great place for him to learn the dynamics of mending, swinging, and retrieving a streamer. In most cases, he is hooked up as long as it keeps his interest. I am fortunate that he is very articulate. He is a very quiet kid, but you can watch the wheels turning in his mind as he figures out something new with fly-fishing or fly-tying.

Most recently, he has really been interested in fishing Dry Run Creek. If you are reading this and you have someone in your life under the age of 16 or handicapped, there is no better place on earth for them to hook up monster fish. It is a small stream mostly generated by the excess water running off the hatchery next to the Norfork River dam. The large brooding fish are placed in this stream when there time as a tool for trout fertility comes to an end. This is an amazing place and I cannot encourage you enough to take advantage of it. Although the action is awesome, there is still a limit to his interest. Most of the times is about an hour and a half of constant action before I can tell he's ready to go. But, with any 11 year old boy, that is a long time. And the times we enjoy there together will resonate through both of our lives as wonderful memories.

The education of Zach (Bubba) will continue and be chronicled in this diary. So, thanks for taking the time to read this first edition of the ADRIFT. Moving ahead there will be uncountable entries of entomology, potamology (study of rivers), gear, fly-tying, casting, and living on and dreaming of the Ozark waterways.

Categories: None

0

/