Shopping Cart
Your Cart is Empty
There was an error with PayPal
Click here to try again
Thank you for your business!
You should be receiving an order confirmation from Paypal shortly.
Exit Shopping Cart
I have had the opportunity to have a completely new experience this Winter.  All because I made the decision to purchase a new drift boat this summer.  That is full access to the water at any time.  We have already experienced one of the worst winter seasons in memory here in Northern Arkansas.  In the past it would have created an atmosphere of looking out the window at the snow and cold temperatures only hoping the Core of Engineers would take compassion for my soul and shut the water down so I could wade fish.  The temperatures and snow have never bothered me, actually it's quite the contrary.  I always treated it like a badge of honor to wader up and catch my fill of trout in terrible winter conditions.  But, that scenario was always based on low water.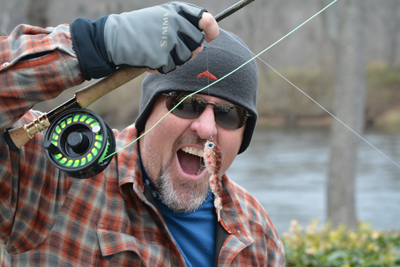 Now, with the river boat, my thought process and reality have changed.  Now, it is me trying to justify NOT getting geared up and rolling the Clackacraft to the river.  Well, in my "rookie" season, I have done my part to continue chasing browns despite the weather conditions.  Over the past 2 weeks, in very cold conditions, I have drifted the Norfork River twice and the White River twice.  Wade fishing is one thing because you are never very far from your warm vehicle and a change in plans.  Launching a drift boat for a scheduled shuttle 5 hours down river is another thing.  Before the drift boat, the anxiety was to simply get my waders wet.  Now, it is an unquenchable pursuit of a Monster Brown Trout.
What proves to be the worst conditions for most, is absolutely necessary for any opportunity to enticing a Monster Brown to pursue a fly.  In contrast the very best conditions are extreme cloud cover, rainy, misty, and high water generation from the Core of Engineers.  The type of conditions that get you weird looks at the gas station when you are seen bundled up and getting your drift boat ready.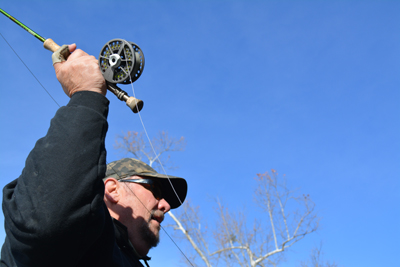 An additional new experience is the addition of huge streamer patterns to your arsenal.  In this chasing of monsters, a 6-8' articulated streamer becomes the norm.  But, it doesn't stop there.  When the normal fly rod for your trout fishing is a 9 foot, 5 weight, this new obsession requires big reels, big rods, and heavy lines.   As opposed to the normal 5 weight, weight forward floating line, you are required to throw a full sinking tip on 8 or 9 weight lines.  The beautiful loading of the fly rod and tight loop is replaced by a forced withdrawal of the fly with no false casts chucking this heavy combination directly where the water meets the bank.  Gentle stripping of the line when fishing your size #12 Woolly Bugger is replaced with heavy and rapid retrieves to give your fly as fast of action as you can produce.
The craziest part of this "game" is how you determine a "good" day.  When fishing like this, you are not looking for the normal 16'-20" fish, but the kind of 24"+ fish that you can only dream about.  As crazy as it sounds, you can fish for 6 hours and see 4-5 fish in that class, and that is a "good" day. This is without any takes. It's the only time you can catch a 20" brown and be utterly disapointed.The one luxury that we enjoy in my boat is a better than average adult beverage. These past trips my compadres and I enjoyed a bottle of single-malt 15 year old Glenfiddich Scotch.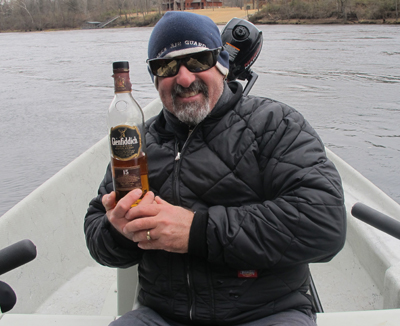 Like I said, I have already been out 4 times in an effort to chase these Monsters and yet to bring a fish in this category to the boat.  All in all, approximately 28 hours of water time with zero success.  But, in these times of frustration, there is one thing that can make it an awesome experience.  That is the people who you choose to share this experience with.  I am very fortunate that I have some great friends who share this crazy obsession as well.  And, I can easily say, I have had a blast each time I have went out this winter.  So thanks Larry Babin, Dave Cornue, Paul Bobby, Paul Port and Bill Thorne for keeping the unfortunate an awesome day on the water.

The other thing that has completely changed for me is fly-tying.  Not the process, but the type of flies.  With a history of tying size #16-#22 bugs, it was a huge change to tying these 6'-8" articulated streamers.  It has been an infusion of another thought process that has been like a breath of fresh air compared to tying the same old mundane flies of the past.  

It has been about 12 hours since I pulled the boat out after my most recent trip, it's currently 19 degrees, snowing, wind gusts over 30 mph, and I'm already thinking about my next opportunity to Chase the Monsters..

Categories: None

0

/